In cooperation with two partner companies Kupron founded the FAST Automotive Group in 2018.
The FAST Automotive Group is a growing alliance and community of European highly specialized automotive suppliers which combine their expertise into one value offering. Through this unique cooperation model, we are able to deliver faster, more efficient, and with proven improved performances.
Our customers are Tier-1 and Tier-2, often a system supplier of complex products with high quality specifications, safety related products, light weight solutions, from-metal-to-plastic developments, hybrid products, and composites.
Why FAST?
The 4 mega-trends in the auto industry:
Autonomous driving
Electrification
Digitization
New mobility concepts…
… combined with the continuous cost pressure ánd lack of (technical) professionals force suppliers to seek for new solutions and partnerships.
Our customers gain through: Improved performances and shorter leadtimes
We offer in a unique business model solutions for thermoplastic applications including
Lightweight
Innovative concepts
Smart thermoplastics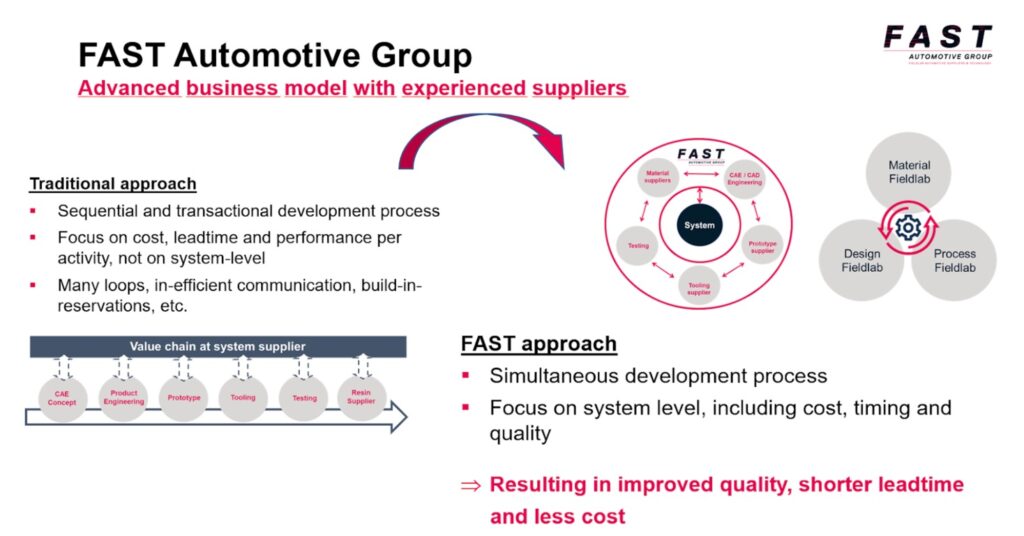 Please contact us for more information about the FAST Automotive group!